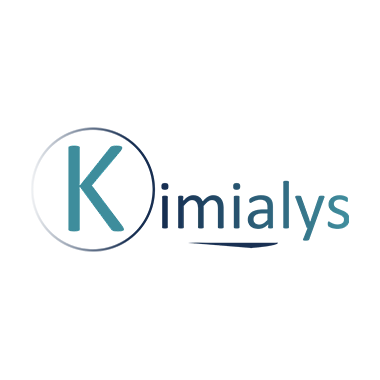 KIMIALYS

Revolutionizing biodetection
Kimialys develops and sells disruptive surface chemistries for biosensors, increasing their sensitivity and specificity, and opening up new possibilites in the in vitro diagnostics.

TECHNO / PRODUCTS
Built on 10 years of academic research, Kimialys' patented surface chemistry can be applied on gold nanoparticules and biochips. Its double action removes background noise by protecting the surface against non-specific interactions, and improves sensitivity by optimizing the ligand density, repartition and orientation towards the target biomolecules.
PRODUCTS PORTFOLIO
Surface chemistry K-One

Functionalized gold nanoparticles and biochips

APPLICATIONS
Kimialys first addresses developers and manufacturers of Rapid Diagnostic Tests. As a technology provider, Kimialys help them increase the performance of their lateral flow assay while lowering their cost, using K-One-functionalized nanoparticles.
Kimialys' surface chemistry also addresses preclinical development of drugs and fundamental biological research, by removing background noise of existing biochips, thus enabling to work at the limit of detection of the Surface Plasmon Resonance (SPR)-based instruments.

BENEFITS
Kimialys opens up new possibilities in the diagnostic, pharmaceutical and life science industries, thanks to a unique combination of benefits:
– Sensitivity increased by an order of magnitude (x10 – x15 gain);
– Optimal specificity (no background noise);
– Cost-reduction of the biodetection (regeant consumption reduced by 50%);
– Efficient in complex sample (serum, saliva, urine), without any difference with buffer solutions;
– Compatible with any biosensor using gold nanoparticles and biochips.