The SATT Paris-Saclay's business model is based on a virtuous mechanism whereby the revenues generated by the exploitation of laboratory research results are shared.
This sharing with the researcher who initiated the technology and the partner institutions contributes to supporting the development of public research in Paris-Saclay.

SELECTION
As a well-informed investor, supported by its decision-making bodies, SATT selects its projects with an objective of profitability of about 5 years, at the end of the maturation project generated, through the payment of royalties and/or Milestone, and on a case-by-case basis by taking a stake in the capital when a startup is created.

ACCELERATION
The creation of value in the economic and industrial spheres also forms the basis of the SATT Paris-Saclay's business model, which accelerates the technological maturity of innovations and secures the time to market.

DEVELOPMENT
By feeding the "deep-tech nation" or taking part in the growth of existing businesses which entrust us with the development of a technological building block, SATT shares in the competitiveness of the territory.
VALUE SHARING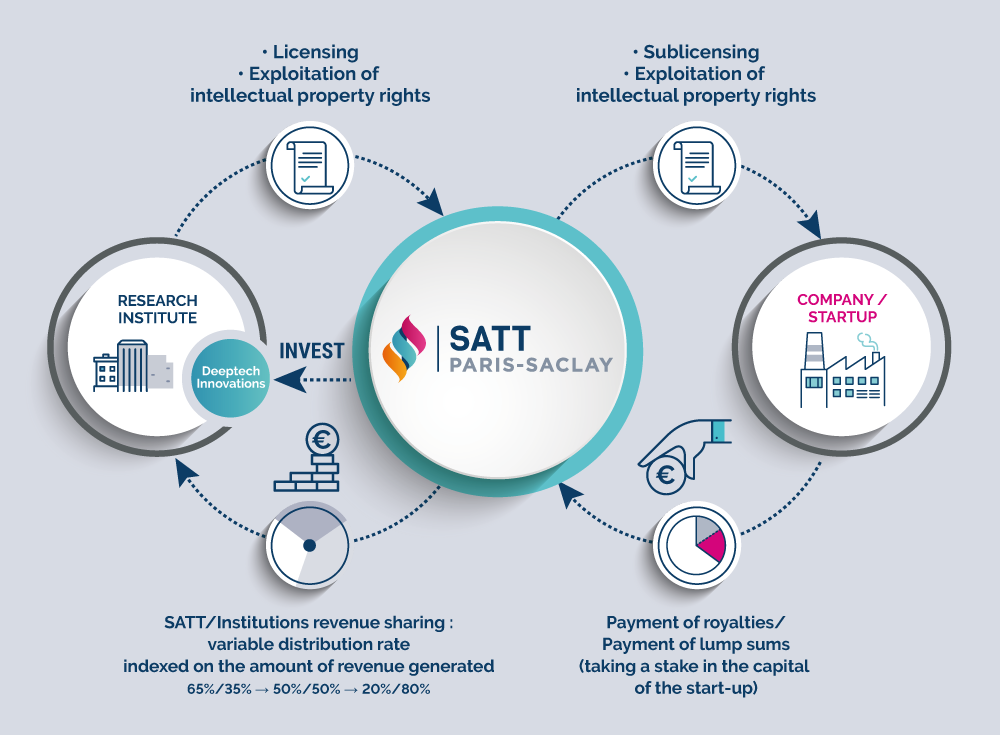 PROJECT ROI MODEL


INDUSTRIAL TRANSFER TO SMEs/MIDCAPS/BIG GROUPS
SATT Paris-Saclay compensation
Typical projects: payment of fees (% of TO).
Health projects: payment of Milestone, later of fees (% of TO).
Fees are calculated based on the following criteria:
Company Business Plan

Exclusive criterion of the sub-license

Geographical area of use of the sub-license

CREATION OF STARTUPs
SATT Paris-Saclay compensation
Typical projects: Payment of reduced fees (% of TO) and equity stake.
Health projects: Payment of Milestone, later of reduced fees (percentage of TO) and equity stake.
Fees are calculated based on the following criteria:
Company Business Plan

Exclusive criterion of the sub-license

Geographical area of use of the sub-license