Technological projects portfolio
SATT Paris-Saclay pays particular attention to supporting innovations that are perfectly aligned with the industrial and commercial needs of companies. We focus on priority scientific fields, which are particularly well represented in the Cluster, as well as on future growth markets.
Each project is managed by the SATT in conjunction with the industrial partner, or the entrepreneur in the case of a technology start-up. It must demonstrate, through its results, the capacity of the technology to be transferred to the industrial world.
STATUS OF THE PROJECTS IN THE PORTFOLIO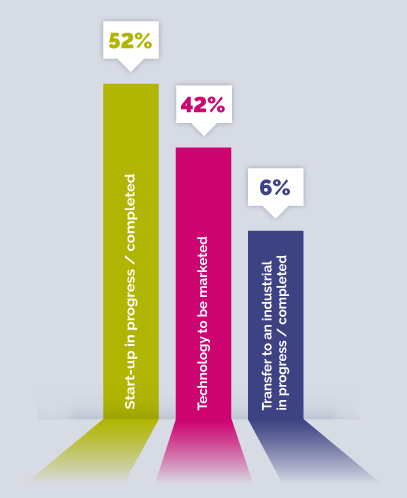 DISTRIBUTION BY FIELD OF APPLICATION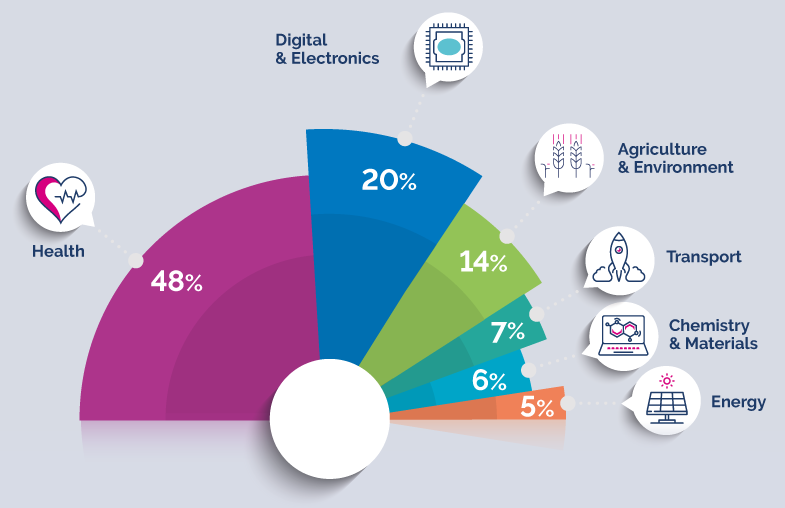 ALL THE PROJECTS SUPPORTED BY SATT PARIS-SACLAY
85+ projects in portfolio


ACTNEO
#Treatment #Neoplasms
AHEAD
#Treatment #Audio #Signal
ALRIGHT
#Treatment #Asthma
APIMONA
#Dietary #Supplement
AVE-TAL
#Virtual #Assistant
BIOARTLUNG
#Artificial #Lung
BIOSAFE
#Biocontrol #Insecticide
CARE CH4
#Remote #Gas #Detection
CBORBIG
#Algorithm #Asynchronous
CLAVIDYC
#DigitalKeyboard #Haptics
COOPERATE
#Dysbiosis #Microbiota
DACMMA
#Antibody-drugConjugate
DATA FOR YOU
#Public #Policy
DETECT
#SmartTarget #SportShooting
DIONYSOS
#Biocontrol #Fungicide
DTR8
#Therapeutic #Protein
EMBRYOLIVE
#InVitroFertilization
ENGINE
#Inflammatory #Disease
EVAC
#Aluminum #Adjuvants
FAUST
#CerebroVascularAccident
FLUOALGO
#DeepLearning #Diagnosis
GLIOVED
#Glioblastoma #FirstInClass
HUBLEX
#Logistics #ElectricMobility
JOKA JOBS
#Mobile #App #Game
LACTOINSIDE
#Probiotic #FoodTech
LUCKY
#Cancer #Veterinary
MEDARS
#Lupus ##Immunomodulator
MEDICINE
#Digital #Simulation
MICADO
#Sensor #Water #Quality
MICRODROPMIXER
#Microfluidic
MINIATURE
#NewSpace #Thruster
MITA-OPALIS
#Endomicroscope
MORPHEE +
#Fall #Detection
NASOFLORE
#Microbiota #Nasal
NEPHROVIR
#Kidney #Transplant
NEW-PT-RAD-OE
#Chemotherapy
NOVATREAT
#Solution #Diabete
NOVECAL
#FineChemistry #Catalysts
NRP-THERAPY
#Immunotherapy
NUTS-MAT
#Therapeutic #Innovation
PADME
#SpaceDebris #NewSpace
PLACIB
#ScarTissue #Burns
PREDICTBIOMAT
#Biosourced #Materials
PROBALIDY
#NASH #Probiotic
PTPS-VAC
#Vaccines #AntiCancer
RESLEEP
#RadioFrequency #Energy
SICLUSAT
#Thermionic #Cathode
SICMT
#Charcot-Marie-Tooth
SMART WAVES
#Relay #HighSpeed
SMART-R
#Road #Infrastructure
SUB-IA
#Monitoring #Breeding
SUCCESS
#LiveBiotherapeutics
SYMBOOST
#Legumes #Symbiosis
TF-PIMS
#Quartz #Resonator
THERAPANACEA
#AI #Radiotherapy
VIVODOGMA
#Maxillofacial #Surgery
VOLTING
#Electric #Wheelchair
WHEATBIOCONTROL
#Biocontrol #Wheat
X-OXAZA
#Prodrug #AntiCancer