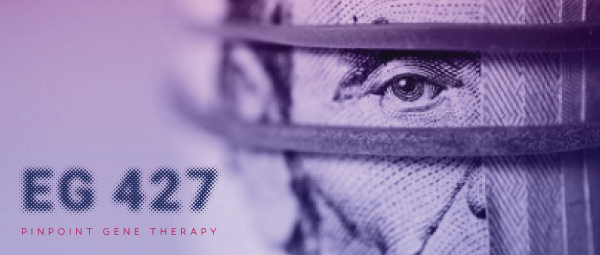 Paris, France, 13 July, 2023 – EG 427, a biotechnology company leading the development of pinpoint DNA medicine solutions, announces today the final closing of a Series A financing. EG 427 raised an additional €5 million in the final closing from a combination of existing investors and new family office investors, bringing the total raised in the Series A round to €18 million.
"We are delighted to conclude this Series A round with strong support from our existing investors, as we also welcome new investors," said Philippe Chambon, M.D., Ph.D., Founder, Chairman and Chief Executive Officer of EG 427. "The funds raised will be used to advance our pipeline, culminating in the Investigational New Drug application filing in Q1 2024 for the first clinical study of our lead product, EG110A. Thanks to our unique ability to deliver gene therapies to targeted tissues with pinpoint accuracy, EG110A could become the first gene therapy product to treat neurogenic bladder overactivity and other bladder pathologies. It also could become the first gene therapy targeting a chronic disease with high morbidity in a large underserved patient population to reach the market."
"EG110A is the first genuinely innovative approach to be developed for patients suffering neurogenic bladder overactivity in more than a decade. Compared to other experimental therapeutics at this stage of development, it is de-risked by two key precedents. First, the way EG110A exerts efficacy is similar – but with potential critical improvements in safety and efficacy – to a surgical option for this condition, called sacral dorsal root rhizotomy; and, second, the recent FDA approval of the first non-replicative (nr) HSV-1 vector gene therapy confirmed that this approach has strong therapeutic potential outside of cancer," said Cornelia Haag-Molkenteller, M.D., Ph.D., Chief Medical Officer of EG 427. "We are finalizing preparations to initiate clinical trials with EG110A in Q1 2024. We believe the established development and regulatory path, combined with the unmet need for a well-differentiated product like EG110A allows us to progress rapidly and potentially bring a second non-oncolytic nrHSV-1 genetherapy to patients."
Neurogenic bladder dysfunction is a chronic and dangerous condition suffered by people living with spinal cord injuries or other neurodegenerative diseases such as multiple sclerosis or Parkinson's disease.